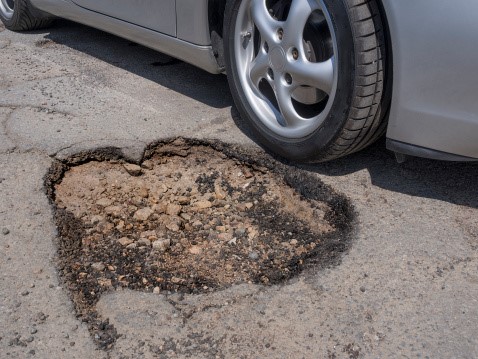 Spring is here and so are the potholes! From the roads we drive on to the parking lots we visit, they are everywhere the asphalt is. You can do your best to avoid them, but you'll probably hit one eventually. According to this report from Mercury News, potholes are more prevalent this year because of the harsh winter we had. Not only are they more prevalent, but they're also larger.
What kind of damage can a pothole cause to a person's vehicle? According to Firestone, it goes way beyond just tires.
Tire puncture
Faster tire wear
Damage to shocks and struts
Suspension damage
Steering system misalignment
Exhaust system and engine damage
This list of possible damages can be very costly to a consumer. As a business you can't do anything about the roads, but when it comes to the parking lot that your customers are using to get to your business, you'll want to make sure that these problems are taken care of. The last thing you want is to lose business because of your parking lot.
Make sure to contact HMA Contracting about repair or repaving your commercial parking lot. We'll get you a no fee, no obligation estimate and assess your situation.